---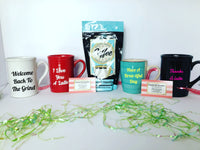 Sale
Back To School Teacher Coffee Mug & Resealable Coffee Gift Set
Sale price $10.99 Regular price $15.99
Back To School Teacher Coffee Mug & Resealable Coffee Gift Set
Choose your pun, and then Coffee Mug can be personalized with one name on the back, example "Mrs. Rizzo", for no additional charge.
Coffee mugs and coffee come wrapped in cellophane, along with pretty ribbons 🎀
Please note that coffee mugs will vary in size and color depending on what we have in stock.
Super easy shopping and fast shipping via my website:
TouchOfTaradise.com
.
#coffee #coffeelover #coffeeaddict #coffeetime #coffeeshop #mug #latte #life #cute #adorable #smallbusiness #picoftheday #artistsoninstagram #backtoschool #teacher #teachersofinstagram #teacherstyle #classroom #student #school #teachergifts #giftideas #gift #giftsforhim #giftsforher #morningmotivation #morning #morningroutine #morningvibes #grind