---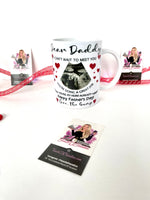 Dear Daddy First Father's Day Mug With Personalized Sonogram
This extra special 15 ounce mug is guaranteed to bring a smile to your special mother-to-be's face! Plus, it's totally dishwasher safe, so the amount of joy this will bring will never be washed away even with daily use!
Personalized coffee/tea mugs make great unique gifts and are also a perfect gift for anyone on any occasion. These can be made for any holiday 🥰
Personalize this high gloss beauty with your baby's sonogram picture, or the father-to-be sonogram picture ❤️❤️❤️
Let's create your own personalized mug and make special memories for your loved ones.
🥰 15 ounce high quality ceramic mug
🥰 Dishwasher and microwave safe
🥰 Comes with gift box 🎁
🥰 No Vinyl or Epoxy used
Once you place your order, please send me a clear sonogram photo that you'd like placed on your mug.
Please check out my 40+ 5 ⭐️ reviews on Google,  and my 55 + 5 star reviews on FB Marketplace for confident shopping 🛍
For Tumblers and/or mugs that have a space for photos, please make sure to send your favorite photos after you place your order. Please be sure to include a clear photo, as whatever you send me will be displayed on your stylish tumbler and/or mug.
***The TouchOfTaradise watermark will not show up on your design***