---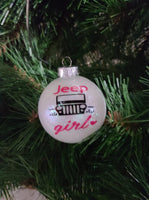 Jeep Girl Ornament
This was a request from a customer, and I thought it was so cute, I added it to my collection.
Font Colors Available:
Bubble Gum Pink, Magenta, Black, White, Sky Blue, Navy Blue, Red, Orange, Yellow, Grass Green, Purple, and Mint Green.
Glitter colors available in:
Glitter Colors - White, Gold, Pink, Hot Pink, Aqua, Black, Red, Silver, Orange, Royal Blue, Purple, and yellow.
Please indicate color choices upon check out.