---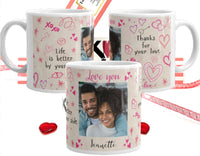 "Love You" Personalized Photo Mug - 15 Oz.
So sweet! "Love You" Personalized 15 ounce Valentine's Mug with picture of your choice!
DISHWASHER AND MICROWAVE SAFE!
Comes with gift box 💝
Image is sublimated directly onto the mug and will not come off.
NO VINYL DECALS AND NO EPOXY USED.
Made to order.
Once you place your order, please send me a clear photo that you'd like placed on your mug.
Stay tuned for more super cute and fancy Valentine's Day Mugs - all 15 ounce with gift boxes!
Please check out my 40+ 5 ⭐️ reviews on Google for confident shopping 🛍
Email: TouchOfTaradise@gmail.com
For Tumblers and/or mugs that have a space for photos, please make sure to send your favorite photos after you place your order. Please be sure to include a clear photo, as whatever you send me will be displayed on your stylish tumbler and/or mug.
***The TouchOfTaradise watermark will not show up on your design***