---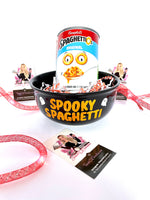 Spooky Spaghetti Bowl
Fall is here, and it's that time of the year for Spooky Season for the kiddos!
Surprise the kids with their own personalized Halloween Spaghetti 🍝 Bowls for lunch and/or dinner. Such a cute gift that the kids will love. 
"Spooky Spaghetti" Bowls come in black or white with orange writing and ghosts on each side. Children's names are personalized on the back of the bowls.
These adorable bowls include a can of spaghettiOs, and the bowls comes wrapped in cellophane with ribbon.

Bowl includes free single name 10 character personalization, i.e., "Michael", "Michelle", "Antoinette"